His Excellency Sheikh Ahmed Zaki Yamani
Founder & Chairman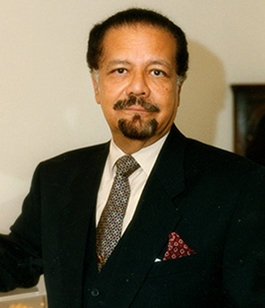 As the modern communication revolution continues its march, adding new methods and techniques, access has been provided to areas of human knowledge that for long centuries remained confined within small circles. Today, the Internet has become a wonderful tool, putting vast areas of human knowledge within easy reach of countless millions of people everywhere.
In continuing its solid achievements in its sponsored projects, Al-Furqān is keen to utilise the most recent advances in information technology. I am therefore delighted to introduce the website of Al-Furqan Islamic Heritage Foundation – our window of the world - in a new format, through which you will have direct access to our centres, and through which we are fulfilling our responsibilities to communicate effectively with our global community. Academics, scholars, students – all those interested in manuscripts, heritage and our accomplishments in these fields – will be able to interact with us directly and easily.
Through this website, our visitors will have direct and instantaneous access to the world of Al-Furqan Islamic Heritage Foundation. They will be informed about the Foundation's work in the area of Islamic written heritage, the real crucible of our cultural, historical and human existence. They will also be familiarised with Al-Furqan's efforts in promoting, encouraging and supporting scholarly work in science and arts, in both Arabic and English.
The website aims at providing wide-ranging services, including a database of Islamic manuscripts that will be regularly enriched. This will enable researchers to access information that will be of value in their work.
Also, the Library, with its own database and online catalogues, will be another feature on the website, enabling users to communicate with the Library rapidly and easily. Moreover, visitors will also be able to access our vast portfolio of publications and in due course purchase them online.
The website will promote and advance the work that Al-Furqan is pursuing with scholars and experts all over the world, to fulfill a common and noble cause, namely, the pursuit of knowledge and the maintenance of constructive dialogue and co-operation among different cultures and societies.
We hope it will be another useful venue for scholars, researchers and students of the Islamic civilisation and heritage all over the world.
I welcome you all to the website and wish you many fruitful and pleasant visits.
Ahmed Zaki Yamani
Founder and Chairman
Al-Furqan Islamic Heritage Foundation